The last time I entered Swaziland was back in the 1980's with the assistance of an ANC operative. We did not have passports. In fact we did not need them. Our thoroughfare was made even easier with the aid of a friendly local traditional healer. As a gesture of goodwill we had brought some foodstuffs, however, canned food was their favourite because it could be stored for longer periods.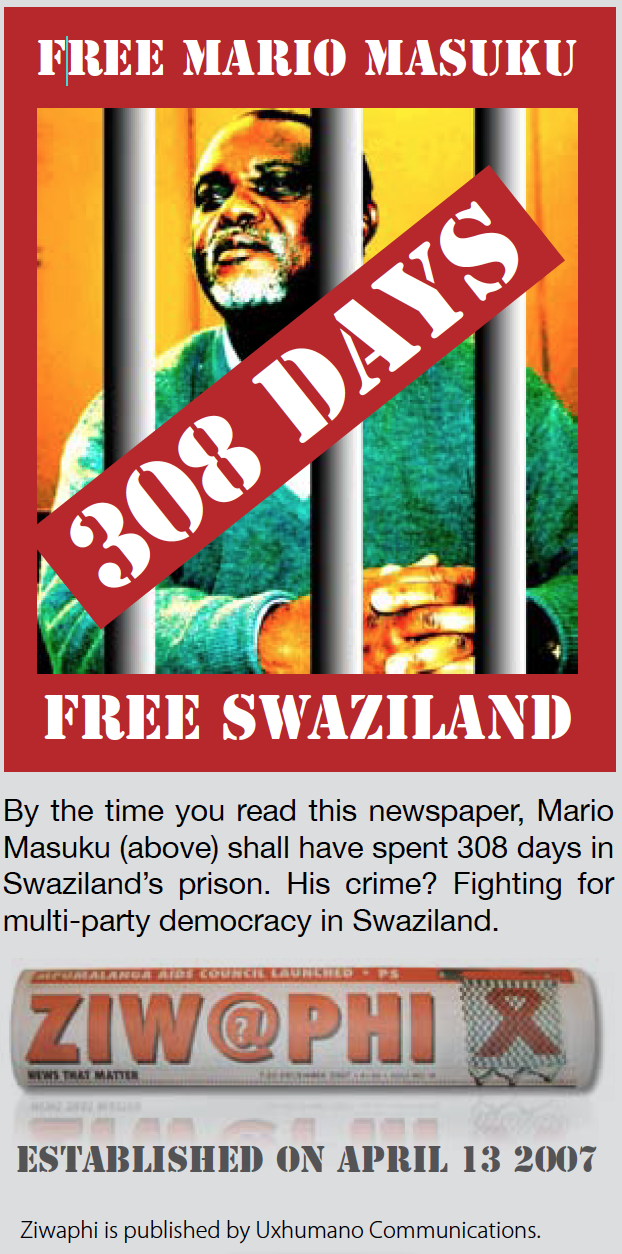 We entered through a hole on the border fence of Swaziland and South Africa, a few kilometres from the Oshoek border post with ease even though our escort informed us that a few days before, they had seen extraordinary activity of apartheid security forces near the path and that they also heard several machine gun shots. We had a safe passage nonetheless.
Almost twenty-five years later, I found myself in Swaziland yet again, this time however, I was on a different mission – to visit recently released political prisoner and President of the People's Democratic Movement (Pudemo), Mario Masuku.
A few weeks ago, COSATU leadership was prevented from entering Swaziland to visit Mario Masuku, and I expected a difficult entry into Africa's last monarchy to see Masuku who is under constant surveillance from police informers and security agents.
My entry was however remarkably easy, from the border post and all the way to Mbabane, I did not see any suspicious vehicle tailing me until I reached the capital, Mbabane. The only vehicle that I saw was that of traffic officers right in the capital and they did not even bother to look at me.
In less than an hour, I found myself in a meeting with Masuku in a hide-out that had been arranged by the Pudemo comrades. The visit was made possible – courtesy of activists of the SACP in Mpumalanga.
I had to put him at ease. My name is Comrade Maqhawe from South Africa. This visit was made possible by comrades of the South African Communist Party in Mpumalanga, I told him the name of the comrades, and after a brief snack, we started the interview.
"Immediately after I was arrested I was placed in solitary confinement and it did not take too long after my incarceration that I fell sick," Masuku said.
Masuku is diabetic.
"I was alone in a police cell and then later I was placed in a cell with two and later more people."
"Being in solitary confinement is difficult, particularly when you are sick."
My next question was very awkward, because as a former freedom fighter myself, I was once referred to as a terrorist by the apartheid regime, but I was there on duty, irrespective of my or his feelings.
CM: "Are you a terrorist?"
MM: "I am not a terrorist. I am a freedom fighter. The progressive view is that a person who fights for his rights is a freedom fighter, but from an imperialist point of view, anyone who fights for his rights is a terrorist," he said without hesitation.
CM: Why were you incarcerated?
MM: "The regime is not comfortable with divergent views. The charges emanates from words I uttered at a funeral Comrades MJ Dlamini and Jack Govender who had died during an explosion near Mswati's residence. I had said they were heroes and that the struggle continues and that more people will be born like them and will take-over from where they had left of. They perceived that as seditious and as support for terrorism."
CM
: Pudemo is banned in Swaziland. Is there an official declaration of the armed struggle against the regime?
MM: Political parties in Swaziland were banned in 1973 through the king's proclamation when the then king of Swaziland, (King Sobhuza), took all power as an absolute monarch. Since then political parties were not allowed [to operate]."
"Pudemo was banned again, together with Swaziland Youth Congress (SWAYOCO), Swazilan Solidarity Network (SNN) and Umbani in September 2008. I regard that as legal stupidity because all political organizations in Swaziland have been prohibited since1973."
"They believe that it is Pudemo is spearheading the bombings. We do not have an armed wing. We believe that in any material conditions, the levels and phases of struggle are always determined by the oppressive regime."
"If the regime says, 'let's talk with the opposition, the opposition will come to the table. If the regime says we will beat you and use violence, the oppressed will do the same."
"The neo colonialists will always say it is the oppressed who are engaged in terrorism, whereas it is they who are practicing state-sponsored terrorism on defenseless, unarmed people."
"We do not sit down and say we are planning to have an armed wing, but people on their own take defensive action against the regime. That is why during a rally at Umsunduza a few weeks ago, police started harassing the participants and the masses gave the police a hiding they will never forget. The people did not have AK47, Bazookas or bombs, but they beat the police, because our movement is rooted in the masses and the poor of the poorest. The regime reacted by saying that Pudemo are terrorists."
"Our strategy for the attainment of freedom and transformation in Swaziland is that of mass mobilization, international solidarity, underground structures and defence. When people are beaten they will not sit down and fold their arms – they will defend themselves even if their intention was not to attack. Even when we have won our freedom we will continue to defend our freedom."
"In any liberation movement, those four pillars will always be there."
CM
: Do you think that you will realize the freedom of Swaziland?
MM: The ideals and principles that I am fighting for are not for my realization now or next year. It will be a historical moment if it happens in my lifetime. When I was in prison I realized that I was merely cooking a brick and mortar for the construction of a building that would be finished by carpenters and those who will put on the roof. You cannot lay the foundation, build, paint and furnish. Somebody can only do as much.
The only disappointment for me will be if I'm going to the grave and realize that there is no progress in the construction of the building. I want to be able to look back and say that I have contributed to that structure. My happiness will be to see all the people of Swaziland to live a better life.
CM: Is there hope for Swaziland?
MM: You cannot move from point A to point B if you do not have hope, but any hope must be coupled with action. I hate hopelessness. We need hope, like a fish swimming in an undiluted pond, it does not stop swimming when there is no food.
CM: Are structures such as SADC helpful to your cause?
MM: Everyone of them [countries] agrees on the need for democratisatoin and good governance. However, not all of them are democratic. Zimbabwe and Swaziland are just examples. How can Swaziland be chosen to be the chair of the peace troika in the region?
How can Swaziland chair the peace troika trying to help Zimbabwe and Madagascar solve its problems when there are problems right here? They even say there should be a government of National Unity, when here political organisations are prohibited. It is a serious contradiction. SADC is just a club of leaders who are contend to say 'rub my back and I will rub yours.
Is there any hope for SADC to resolve the problems in Swaziland when the group that is supposed to resolve the problem of Swaziland is headed by Swaziland? It's like saying, when you are a doctor and you have a headache and you are told to go heal yourself.
CM: Has Pudemo made any representation to SADC for the expulsion of Swaziland?
MM: We tried to present a petition to the African Union when they were in Mozambique, but when the Swaziland government heard we were going there, they told the Mozambique police that we were driving a stolen vehicle and when we reached Mozambique, we were arrested and locked in an army camp. They told us that the have been informed by the Swaziland police that we were using a stolen vehicle. These are the tricks that happen. You are not allowed to voice your issues.
We will continue to engage the SADC, because Mozambique is now responsible for the troika.
The challenge is that SADC is now chaired by DRC – a country that is having problems itself.
DONT miss the next edition. Masuku will be addressing the issues of Mbombela Mayor, Premier DD Mabuza's government and the 2010 Soccer World Cup and others.
We will also publish his latest pictures.